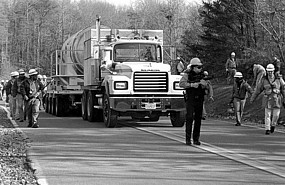 Moving Spent Fuel
The Price Anderson Act was originally enacted in 1957 as an amendment to the Atomic Energy Act to establish a system of financial protection for persons who may be liable for a nuclear accident or incident and for persons who may be injured.

Initially, the Act covered only commercial nuclear power plants and related facilities and activities operated under license to the U.S. Nuclear Regulatory Commission. ''In 1988, the Act was re-authorized with amendments that brought nuclear activities of the U.S. Department of Energy (DOE) and DOE contractors under the liability coverage provided by Price Anderson.

In 2002, Congress renewed the provisions of the Price-Anderson Act that protect DOE contractors at government facilities in case of an accident. Provisions related to insurance for commercial nuclear power plants were not extended.