Lawsuits in the Press — 2009
April 17, 2009 — State of Nevada Motion to Surface Transportation Board to Suspend or Reopen (proceeding to consider DOE's Public Certificate of Convenience and Necessity application for Caliente rail line). (pdf-1.57M)

— State of Nevada

April 10, 2009 — Nevada seeks to derail Yucca train plan: State files motions with transportation board — WASHINGTON -- If there is likely to be no nuclear waste repository in Nevada, there is no need to think about building a nuclear waste railroad, attorneys for the state are saying to a federal board considering an Energy Department rail plan. Nevada lawyers filed a motion Tuesday asking the Surface Transportation Board to suspend a DOE application to build a rail line from Caliente to the repository site at Yucca Mountain — Stephens Washington Bureau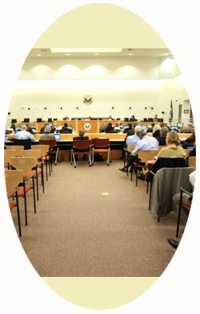 Lawsuits in the Press — 2008
March 29, 2008 — YUCCA MOUNTAIN: License challenges could exceed 650 — Agency prepares to review construction application — WASHINGTON -- Nevada could launch between 250 and 500 license challenges to Yucca Mountain, state officials said, making the proposed radioactive waste repository by far the most contentious issue ever weighed by nuclear safety regulators — Las Vegas Review Journal

April 24, 2008 — DOE's complaint against Nevada dismissed — WASHINGTON -- Nevada won a Yucca Mountain ruling at the Nuclear Regulatory Commission on Wednesday. A three-judge panel voted 2-1 to dismiss a Department of Energy complaint that state officials were withholding documents from a licensing database for the proposed nuclear waste repository — Stephens Washington Bureau

April 04, 2008 — Law firm's Yucca pact with DOE criticized — Inspectors say agency ignored conflicts, documentation —WASHINGTON -- Federal inspectors on Thursday faulted the Department of Energy for picking a law firm with conflicts of interest to work on the Yucca Mountain Project without fully documenting why the firm was selected — Stephens Washington Bureau (Related Information)

April 03, 2008 — Nevada delegation assails law firm's work on Yucca Mountain — Las Vegas Sun

June 24, 2008 — DOE contract for Yucca Mountain attracts attention — U.S. Justice Department takes notice . . . . Energy Department officials failed to check with the Justice Department before signing a four-year $47.7 million contract with Morgan Lewis & Bockius LLP, a firm acknowledged to have conflicts on nuclear waste matters, a Justice official said — Stephens Washington Bureau

June 07, 2008 — Firm stays on Yucca Mountain case: NRC rejects Nevada's demand — WASHINGTON -- The law firm hired by the Department of Energy to handle Yucca Mountain licensing will remain on the job despite the protests of the state of Nevada. The Nuclear Regulatory Commission rejected the state's demand that Morgan Lewis & Bockius be disqualified from the nuclear waste repository case — Stephens Washington Bureau

June 05, 2008 — Nevada files challenge to Yucca license — A day after the Energy Department submitted its 8,600-page application to bury nuclear waste at Yucca Mountain, the state on Wednesday filed 21 pages of "get lost," asking regulators to reject the plan.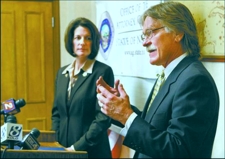 Attorney General Catherine Cortez Masto filed the petition asking the Nuclear Regulatory Commission to send back to the DOE its application to construct and license the repository for high-level nuclear waste at the site 100 miles northwest of Las Vegas RJ.com [More Coverage, Nevada Appeal]



June 04, 2008 — State of Nevada - Petition to the NRC to Reject DOE's Yucca Mountain License Application as Unauthorized and Substantially Incomplete (pdf-61K)

June 04, 2008 — Nevada files challenge against nuclear dump license — A Bush administration bid to win Nuclear Regulatory Commission approval for a national nuclear waste dump outside Las Vegas was challenged Wednesday by Nevada as too little and six years too late. . . . The state's 33-page petition was filed to the Nuclear Regulatory Commission in Rockville, M.D., Cortez Masto [ Nevada Attorney General] said — Las Vegas Sun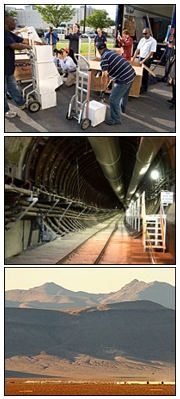 July 20, 2008 — Supplement to June 4, 2008 Petition asking the NRC to Reject DOE's Yucca Mountain License Application as Unauthorized and Substantially Incomplete (pdf-7.29M) State of Nevada

August 22, 2008 — Nevada's objection to nuke dump application tossed — Regulators have rejected a petition by the state of Nevada against the federal government's license application for a nuclear waste dump 90 miles northwest of Las Vegas — AP (More Coverage LRJ.com )

August 14, 2008 — Nevada gets more time to file Yucca challenges — WASHINGTON -- The Nuclear Regulatory Commission on Wednesday granted Nevada 30 additional days to file license challenges to the Yucca Mountain repository, short of the extra time the state requested for its preparations. Attorneys for the state in April asked the nuclear safety commissioners to allow 180 days for participants in license hearings to file "contentions" that challenge aspects of the nuclear waste plan. NRC rules currently allow 30 days — Stephens Washington Bureau

August 08, 2008 — Utilities win rulings on nuclear waste storage PG&E Co. and other utilities won appeals court decisions that may result in greater compensation for the U.S. government's failure to take ownership of radioactive waste from nuclear power plants. In three rulings, the U.S. Court of Appeals for the Federal Circuit Thursday outlined a new standard for compensating utilities that were forced to store the waste because the government hasn't begun building a promised disposal facility at Yucca Mountain, about 100 miles northwest of Las Vegas — — Desert News

October 11, 2008 — Nevada sues over radiation limit — Court asked to toss Yucca exposure standard RJ.com (Read AG's Press Release) (Read the AG"s legal filing)

December 23, 2008 — Petitions challenge Yucca license bid — Clark County, tribal group cite safety concerns — Following Nevada's lead, Clark County and a nonprofit Timbisha Shoshone corporation filed petitions Monday challenging the Department of Energy's license application for a nuclear waste repository at Yucca Mountain. "In a nutshell, we're challenging DOE's capacity to construct and operate a safe repository," said Irene Navis, Clark County's nuclear waste planning manager — RJ.com
---
Lawsuits in the Press — 2007
January 31, 2007 — PFS files suit seeking to store nuclear waste — By Suzanne Struglinski Deseret Morning News

July 26, 2007 — Government challenges order halting water use at Yucca site — The other shoe dropped Wednesday in the squabble between the federal government and Nevada over using the state's water for drill rigs at the planned Yucca Mountain nuclear waste site. Justice Department attorneys on behalf of the Department of Energy filed an emergency motion in U.S. District Court in Las Vegas seeking to block State Engineer Tracy Taylor's June 1 cease-and-desist order, which was reinstated Friday — Las Vegas Review Journal

July 25, 2007 — State officials renew charge against DOE — WASHINGTON -- Nevada officials have renewed a charge that the Department of Energy plans to withhold key Yucca Mountain documents from the state's scrutiny. Lawyers for the state filed a complaint Monday at the Nuclear Regulatory Commission — Las Vegas Review Journal Read the State's complaint



August 14, 2007 — Federal lawyers defend water use - Filing contradicts Nevada in Yucca Mountain case — Contrary to Nevada's stance that the Department of Energy violated a court-approved agreement by using the state's water to drill bore holes at the Yucca Mountain nuclear waste site, Justice Department attorneys contend in court papers Monday that DOE did nothing wrong — Las Vegas Review Journal

August 01, 2007 — State files court papers to halt Yucca Mountain water use — Federal officials overseeing the Yucca Mountain nuclear waste project put themselves in a "legal no man's land" when they used Nevada's water to drill bore holes without permission and shouldn't be allowed to continue, state attorneys said in court papers filed Tuesday — Las Vegas Review Journal

September 11, 2007 — YUCCA MOUNTAIN: State presses DOE on use of water — Nevada attorneys filed a pair of motions Monday in U.S. District Court in Las Vegas asking a judge to compel the Department of Energy to stop using the state's water for drilling bore holes at the planned Yucca Mountain nuclear waste site — LRJ.com

Related Information (Nevada)
Motion to Compel Compliance with Requirement for a Three-Way Agreement for Water Usage and Request for Shortening Time



Nevada State Engineer's Motion to Compel Compliance with State Engineer's Orders of June 1 and July 16, 2007, and Request for Order



September 04, 2007 — Federal judge says drilling must stop at nuke dump site in Nevada — AP (More Coverage) (Related Information)

October 01, 2007 — Company awarded millions in nuclear storage lawsuit — MINNEAPOLIS -- A court has awarded Xcel Energy Inc. $116.5 million over the federal government's failure to open the Yucca Mountain nuclear storage facility on time — AP

November 10, 2007 — Cortez Masto seeks to block Yucca license — LRJ.com (Related Information)

December 06, 2007 — Nevada fights law firm's deal at Yucca site — Lawmakers allege conflicts of interest — WASHINGTON -- Nevada lawmakers on Wednesday challenged a lucrative contract the Department of Energy has awarded for a law firm to manage licensing for the Yucca Mountain nuclear waste site — LRJ.com
---
Lawsuits in the Press — 2006
December 27, 2006 — YUCCA MOUNTAIN — State seeks ruling barring storage above the ground Pahrump Valley Times

August 08, 2006 — Court Rejects Nev. Yucca Mountain Appeal — WASHINGTON - Nevada was dealt a blow in its effort to avoid a radioactive waste dump Tuesday as a federal appeals court turned aside arguments against transportation plans — AP

March 23, 2006 — Nevada chases Yucca Mountain documents, sues — Agency keeps drafts of application secret — WASHINGTON -- A dispute between Nevada and the Department of Energy over Yucca Mountain documents escalated Wednesday into a federal lawsuit. Attorney General George Chanos filed a complaint in U.S. District Court in Reno that seeks to force the government to make public draft versions of an application for a nuclear waste repository at the Nevada site — By STEVE TETREAULT STEPHENS WASHINGTON BUREAU
---
Lawsuits in the Press — 2005
January 29, 2005



Yucca irritates Sandoval — White House tries AG's patience — WASHINGTON -- Attorney General Brian Sandoval said in a letter released Friday that he was losing patience with White House officials who have failed to respond to a Yucca Mountain complaint he raised last year — By STEVE TETREAULT STEPHENS WASHINGTON BUREAU


Read Attorney Sandoval's letter to the CEQ



January 11, 2005 – Nevada entitled to more funds to fight Yucca, lawyers say –Court to decide whether energy secretary can increase state's $1 million allocation – WASHINGTON -- Lawyers for the state of Nevada returned to federal court Monday over Yucca Mountain, arguing the state is entitled to millions more dollars to contest the proposed nuclear waste repository – By STEVE TETREAULT STEPHENS WASHINGTON BUREAU

February 28, 2005 — Attorney downplayed success of Yucca challenges — As reported by the Review-Journal on Tuesday ("Sandoval says project doomed"), Nuclear Energy Institute attorney Michael Bauser testified to the state Senate Judiciary Committee that out of 13 legal cases against the Yucca Mountain Project, nine of which were initiated by the state, all but one of the challenges were rejected. He is wrong. — Las Vegas Review Journal

February 22, 2005 — YUCCA MOUNTAIN: Sandoval says project doomed — Attorney general addresses lawmakers – CARSON CITY -- Lawmakers were told Monday that a proposed federal nuclear waste repository at Yucca Mountain will never open because of major problems, including its creation over time of "the world's largest septic field" of radioactive material — Las Vegas Review Journal

February 11, 2005 — Talks begin on how to handle sensitive Yucca documents — Lawyers for Nevada, Department of Energy seek common ground — Las Vegas Review Journal

March 24, 2005 — Nevada files brief in suit against nuclear waste railroad — LAS VEGAS - Nevada is accusing the Energy Department of failing to complete required environmental studies and usurping jurisdiction of the government's railroad agency in planning to build a rail line to the Yucca Mountain nuclear waste site – AP

March 08, 2005 — Judges reject Nevada's bid to get more anti-Yucca funds — Nevada lost a bid today to get more money from the federal government to fight the proposed Yucca Mountain nuclear waste dump — AP

March 07, 2005 — Shoshone file suit against Yucca dump — The Western Shoshone Nation has rejected millions of dollars in compensation for the loss of their ancestral lands, and now the tribe is suing the federal government to stop nuclear waste from being housed at Yucca Mountain — Las Vegas Sun

April 28, 2005 — Utility contract may be voided — Judge criticizes repository delays — WASHINGTON In an opinion highly critical of government delays at Yucca Mountain, a federal judge said she wants to void a California public utility's nuclear waste contract and give ratepayers their money back. Judge Susan Braden said she has tentatively concluded that a 1983 contract signed by the Sacramento Municipal Utility District should be rescinded. She proposed the customer-owned utility get a refund for the $40 million it has paid to build a repository and to have radioactive spent fuel moved from the mothballed Rancho Seco Nuclear Power Station. — By STEVE TETREAULT STEPHENS WASHINGTON BUREAU

April 28, 2005 — Tribe fights Yucca in court — Judge hears Western Shoshone lawsuit, makes no ruling — A federal judge made no immediate decision Wednesday on whether an American Indian tribe's 19th century claim to vast stretches of Western land should stop government plans for a national nuclear waste repository at Yucca Mountain — Las Vegas Review Journal

April 19, 2005 — Ruling may help Vegas block rail shipments — WASHINGTON -- A federal court ruling Monday could empower Las Vegas and other cities seeking to block rail shipments of hazardous materials — AP

May 18, 2005 — Federal judge denies Indian tribe's plea to halt nuclear dump — LAS VEGAS - A federal judge has denied an Indian tribe's plea to stop federal plans for a national nuclear waste dump in Nevada based on a claim the project violates a 19th century treaty. With the Yucca Mountain repository yet to open and a disputed rail line yet to be built, U.S. District Court Judge Philip Pro decided not to issue an injunction — AP

May 04, 2005 — State argues to get all documents on Yucca Mountain made public — WASHINGTON -- An attorney for Nevada was to argue today at an Atomic Safety Licensing Board hearing that the Energy Department needs to make certain Yucca Mountain project documents public. The board's eventual decision will determine if the department has to hand over certain documents it does not want to load into a database right away. A ruling in Nevada's favor may further delay the nuclear dump planed for Yucca Mountain — By Suzanne Struglinski Las Vegas Sun Washington Bureau

June 21, 2005 — Nevada asks federal court to stop Yucca Mountain rail plan — LAS VEGAS - Nevada asked a federal court Tuesday to derail Energy Department plans for a rail line to ship radioactive waste to Yucca Mountain, claiming "abuses of authority" by the administration and its "decide-first, analyze-later approach." — AP

June 07, 2005 — State seeks draft copy of Yucca license application — WASHINGTON -- Nevada lawyers have filed a petition to obtain a draft copy of the Yucca Mountain license application, which Energy Department officials have declined to make public — By Benjamin Grove SUN WASHINGTON BUREAU

July 12, 2005 — Yucca problems cited in court — Nevada argues that nuke ratepayers' money be refunded —WASHINGTON -- Nevada's lawyers are listing numerous problems with the planned Yucca Mountain nuclear waste dump as part of their effort to get the U.S. Court of Federal Claims to cancel the Energy Department's contract to take nuclear waste. Nevada wants the court to order that utility ratepayer money that had been set aside to pay for a final storage site be refunded — By Suzanne Struglinski - Las Vegas Sun WASHINGTON BUREAU

August 31, 2005 — YUCCA MOUNTAIN FIGHT: Sandoval recruits supporters — Nevada attorney general writes letters to colleagues in 10 states to oppose EPA radiation standards —CARSON CITY -- Attorney General Brian Sandoval on Tuesday sent letters to the attorneys general in 10 states urging them to speak out about what he called unacceptable proposed radiation standards for the planned nuclear waste repository at Yucca Mountain — By SEAN WHALEY Las Vegas Review Journal, Capital Bureau

August 11, 2005 — EPA proposal gives Yucca a boost — Nevada officials vow to challenge radiation standard — Las Vegas Sun

August 10, 2005 — Yucca radiation limits unveiled — Standards will be good for 1 million years, EPA says — WASHINGTON -- The Environmental Protection Agency on Tuesday unveiled a new set of radiation limits for Yucca Mountain that appear headed on a path to prolong and intensify clashes over the safety of burying nuclear waste in Nevada — Las Vegas Review Journal
(More Coverage Washington Post and the Las Vegas Sun)

September 27, 2005 — GROUNDWORK CRITICIZED : DOE land use plan disputed — Nevada officials question proposed rail corridor that leads to Yucca Mountain — Stephens Washington Bureau

September 23, 2005 — Nevada wins Yucca ruling — DOE told it must release draft copy of license application — Chalk one up for the Nevada lawyers fighting the planned Yucca Mountain nuclear waste repository. A three-judge panel for the Nuclear Regulatory Commission ruled Thursday that the Department of Energy must release a draft copy of the license application that it intends to submit for the NRC to review — Las Vegas Review Journal

September 13, 2005 — YUCCA MOUNTAIN: EPA official defends rule — An Environmental Protection Agency official Monday defended proposed new radiation safety standards for Yucca Mountain and said they amounted to the most stringent nuclear waste protections in the nation — Stephens Washington Bureau

September 13, 2005 — Utah to file appeal of nuclear repository ruling — Desert News

September 01, 2005 — Nevada files suit against NRC over Yucca license process — LAS VEGAS - Nevada filed a lawsuit Thursday against the Nuclear Regulatory Commission, accusing the agency of prejudging an upcoming Energy Department application for a license to open a nuclear waste dump at Yucca Mountain. "The only way NRC can meet its requirement that a repository will be available by 2025 is to presume it will give Yucca a license," Attorney General Brian Sandoval said in a statement. "For an ostensibly impartial regulator to make that prejudgment is simply unlawful." — AP Read AG's Press Release

October 19, 2005 — Nevada says DOE cut corners — Judges hear state's latest bid to stop Yucca project — WASHINGTON -- An attorney for Nevada on Tuesday set out to persuade a panel of federal judges that the Department of Energy cut corners in its initial planning to ship nuclear waste to Yucca Mountain. — Stephens Washington Bureau

October 11, 2005 — Critics dominate final EPA hearing on radiation rule — WASHINGTON - The Environmental Protection Agency's final hearing on its proposed rule governing how much radiation could be released from Yucca Mountain drew a series of critics Tuesday, mostly environmentalists who said the standard was too weak to protect future generations. By ERICA WERNER ASSOCIATED PRESS

October 04, 2005 — NRC appeals posting draft Yucca document on the Internet — WASHINGTON -- An order for the Department of Energy to post to the Internet its draft license application for Yucca Mountain was appealed on Monday. Staff members for the Nuclear Regulatory Commission challenged the reasoning of a three-judge panel that sought to clarify the definition of draft paperwork for the proposed nuclear waste repository.— By STEVE TETREAULT STEPHENS WASHINGTON BUREAU

November 09, 2005 — Federal judge dismisses Indian tribe suit against nuclear dump — LAS VEGAS - An Indian tribe will try again to get a federal judge to stop plans for a national nuclear waste dump in Nevada based on a 19th century treaty after its initial lawsuit was dismissed, a lawyer for the tribe said Wednesday. By KEN RITTER ASSOCIATED PRESS



2004 Press News



2003 - 2001 Press News