Yucca Mountain Project: Year in Review

006 brought a number of developments in the Energy Department's Yucca Mountain Project. The most important events included the announcement of an updated timeline for the project, the revival of a study of a new route for rail transport of nuclear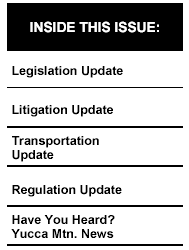 waste through Nevada, and the confirmation of a new director of the Office of Civilian Radioactive Waste Management (OCRWM). The following is a review of these and other Yucca Mountain-related events of 2006.
A New Timeline
The Department of Energy (DOE) announced in July of 2006 that it had set a new target date for the opening of the proposed repository. Under the new schedule, the Yucca Mountain repository will be ready to start accepting shipments of nuclear waste in March of 2017. DOE had previously projected that the repository would be operational by 2010. That deadline was abandoned two years ago due to budget shortfalls and various scientific and regulatory obstacles.

This new schedule assumes the successful resolution of a number of political, financial, and legal issues that have stymied the project. For instance, in order to meet the 2017 deadline, DOE must submit an application to build and operate a repository to the Nuclear Regulatory Commission (NRC) by June of 2008.

According to this timeline, DOE anticipates that the construction of a rail line in Nevada would begin in 2009 and be completed by June of 2014.
Assessment of Yucca Mountain Redesign
DOE announced in October of 2006 that it plans to prepare a supplement to its final environmental impact statement (EIS) for the proposed Yucca Mountain repository. This announcement follows the Energy Department's plans, first revealed in October of 2005, to shift the design of the repository in order to improve safety and performance. This new "clean" design calls for nuclear waste to be delivered to the repository in standard canisters that would not require substantial onsite handling prior to being placed in a waste package for disposal.

The new plan eliminates the need for huge, costly surface facilities for repackaging the nuclear waste. The waste will instead be packaged at commercial sites in multipurpose transport, aging and disposal canisters (TADs).

In fall of 2006, DOE invited the public to comment on the scope of the supplemental Yucca Mountain EIS. DOE held public hearings and accepted public comments in written form between October 13 and December 12.